Experience Data as a Differentiator with our
Data-driven Insights for Business Growth
Algoscale's Big Data Solutions
In today's data-driven world, Big Data engineering plays a pivotal role in unleashing the true potential of raw data. Harnessing the immense potential of Big Data is a game-changer for businesses in the digital age. Algoscale specializes in delivering cutting-edge Data Engineering Services that transform raw data into actionable insights, empowering your organization to stay ahead in the competitive landscape.
Our Big Data Engineering Services
With Algoscale, your data journey is seamless and efficient. Our Big Data experts utilize data from across the business ecosystem, crafting a comprehensive approach that ensures your data delivers meaningful and impactful results.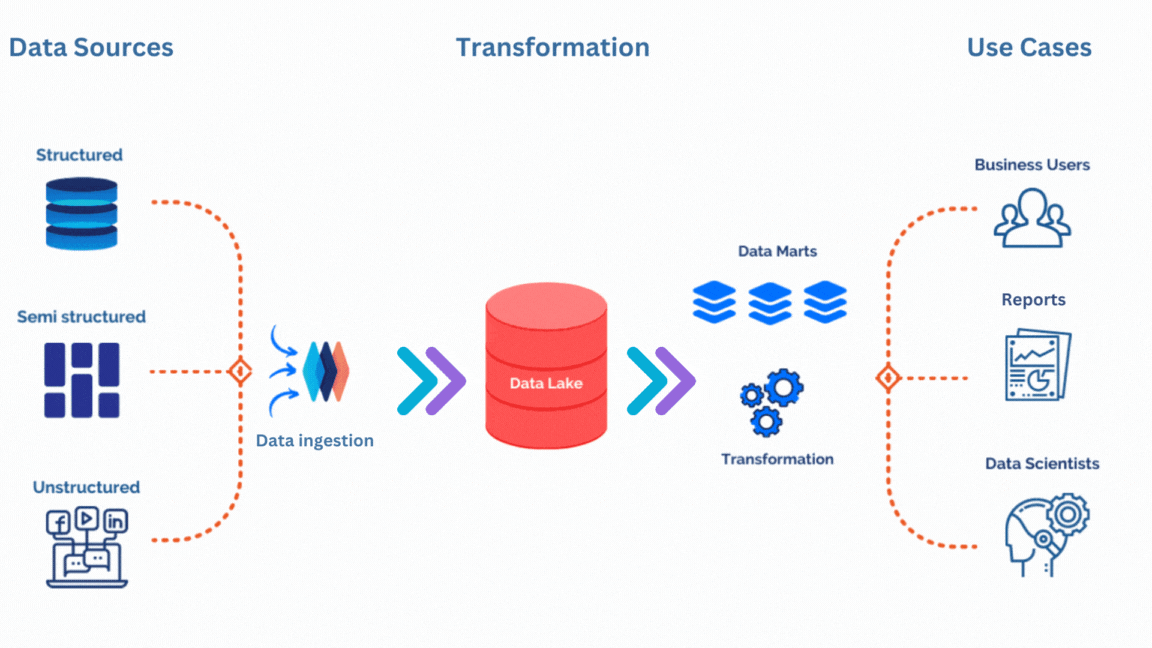 Partnering with Algoscale gives you access to industry-leading data engineering consulting and solutions. Our team's in-depth knowledge and experience allow us to tackle complex data challenges and deliver solutions that drive tangible results for your business. Our Big Data analytics services enable accurate consolidation, management, protection, and understanding of your business-aligned data. Here's what sets us apart.
Empowering Business Transformation
Algoscale isn't just another tech-driven company. Our data engineering practice is dedicated to driving tangible outcomes, focusing on building robust data models that deliver lasting business value beyond defined use cases.
Accelerated Insights Delivery
With our cutting-edge suite of accelerators, Algoscale's data engineering solutions slash time-to-value by an impressive 30% compared to traditional consulting and technology service firms. Get the insights you need faster and stay ahead in today's competitive landscape.
Harnessing the Power of Open Source
Embracing the potential of open-source technology, our data engineering team enables accurate real-time analysis of massive data volumes, while simultaneously reducing data storage costs. Collaborate effortlessly across diverse fields and maximize efficiency with our open-source approach.
Our experts collaborate with high-end technologies and architectures to provide unique solutions to our clients. Some of the technologies we work with
Take the Next Step with Algoscale
Don't let valuable insights slip through the cracks. Empower your business with Algoscale's Big Data Engineering Services.
Whether you need data warehousing, data pipelines, or data visualization, we have the expertise to transform your data into a valuable asset.
Blog
Regardless of whether you are a small local business or a national corporation, tracking your retail sales is incredibly important. The valuable activity lets you
Read More »
Blog
Apache Spark is an open-source, distributed processing platform to handle workloads of big data. In this article, we will discuss Resilient Distributed Datasets and Dataframes
Read More »
Blog
Organizations can utilise data integration tools to access, integrate, transform, process, and transport data spanning multiple endpoints and any infrastructure to serve a wide variety
Read More »
Frequently Asked Questions